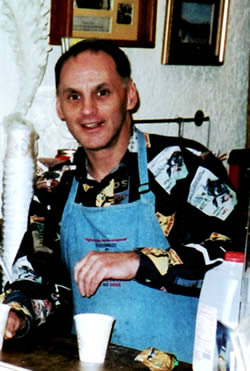 Or What I Learned from Kerry Kennedy
I remember receiving the call and hearing the words that "Kerry was gone" and thinking, "Gone where? Where did he go?" Then realizing that his sister wouldn't be calling me so early in the morning if Kerry had simply gone on a vacation. Accepting that he's died has not been easy as Kerry was the bright spot in many lives, always giving to others even if he had to do without himself. He loved to brighten people's day and always had a half a moment to lift someone up.
Officially my cousin, he and his sister Kim (as well as his brother Tommy, who passed in 1981) have always been like siblings to me. We grew up together after the passing of their mom at a young age. Kerry being the youngest, and my elder by a couple of years, we were always thrown together at any gathering and, for some reason, we always seemed to be the ones in trouble. Kerry had no fear of stepping outside the boundary lines if it meant doing something he really wanted to do.
In the days since learning of his death, I have thought many times about all the many things I have learned from Kerry Kennedy and wanted to share a few of the best:
Read more: Who do you call for flowers when your florist dies?