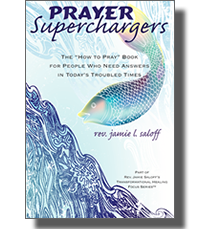 (Note: This book is about to go out-of-print to be replaced by a fully updated new book, Marvelous Messages from Your Faith. Get your copy of Prayer Superchargers now, while you still can.)
My first memory of prayer goes back as far as toddler-hood, where a small pottery plaque hung above my bed with the Golden Rule. I would often ask my mother what it said. Around that same time, a relative gave me two small prayer books from which I memorized a bedtime rhyme that I have said throughout my life.
Prayer has always been such an integral part of everything that I do, it is second nature to me. I had put the prayer keys that I used daily into a series of emails that were sent out mid-2006. An old friend of mine (Duane), heard me talk about them and wanted to read them. However, he didn't have email. So I printed a hard copy for him, and he loved them.
After Duane passed away, I wanted to honor his fond memory somehow and decided to create and dedicate this book to him.
About the Book:
Prayer Superchargers: The "How to Pray" Book for People Who Need Answers in Today's Troubled Times is a fast-read book with short stories about the key concepts I use to activate powerful prayers. Many of them will surprise you and make you rethink how you pray.
In this book I share how I found a favorite lost watch; how a car I wanted but couldn't afford, miraculously ended up in my possession. I explain how prayer can work in everyday situations, like waiting at a restaurant; and how prayer works whether or needs are great or small.
What Others Are Saying
"Just read the book! I Love it! So simple and well put. It definitely helps put things in perspective and helps the reader truly understand how prayer works!"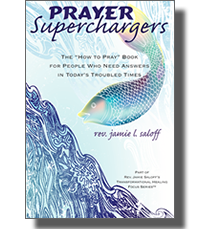 ~ Rev. Kris Seastedt

"Prayer Superchargers covers distinct issues that affect the power of prayer, allowing God to assist you in ways you've never even thought of." ~ Rev. Anita Pizycki

"Prayer Superchargers is thought provoking in a very simplistic but powerful way. A quick guide of hope and faith! Inspiring!" ~ Rev. Traci Bissonette
Buy Your Autographed Copy Now: only $9.95* plus $5 shipping.
Also Available on Amazon.com and from other fine retailers.


(*USA Addresses only.)