If you've read my blog, The Dancing Princess, you already know why I wrote this book.
My quest to understand wellness began after my journey with cancer and other life-threatening ailments. Although I read all the right books by all the best authors, their wise advice had not helped me. With two young sons and an unpromising family history, I knew I had to change something, and fast.
One night, I locked myself in the bedroom, vowing not to come out until I had the answers I sought. I prayed that God would not only help me to find a way to wellness, but that it would be easy enough to understand for a then novice like me. I also promised to teach others the methods I sought.
Using little sticky notes on posterboard, I allowed information to flow through me. When I finished, I found clues to the answers I sought and realized that my suffering had not been in vain. My ailments had a profound purpose and a message of hope. I had not understood earlier in my journey how to interpret those messages, but now I did.
About the Book:
Transformational Healing: Five Surprisingly Simple Keys Designed to Redirect Your Life Toward Wellness, Purpose, and Prosperity contains 428 pages, a detailed appendix, and index.
Transformational Healing contains five key sections, each very different from the other. They include:
A section on relief from pain and emotional distraught;
Commitment to healing and escape from fear;
The importance of our deepest heart's desires;
The reason our heritage plays an important role in who we are;
How to tap into a built-in guidance system designed to answer life's toughest questions;
Who we are really;
and much, much more...
What Others Are Saying:
"I have just finished your book and I think it is one of the best books on healing and spirit I have read in years. I have a wide background in alternative healing techniques / hands on healing / feng shui / nutrition, etc., etc. Your 'body songs' have given me a new outlook... Thank you. " --Janice Kyd
"Beyond Carolyn Myss and Louise Hay, this work shares everything you need to know, from the deepest of all places, whether you believe your malady be of a physical, emotional, mental, or spiritual nature, or all of the above."
 --Tom Bird, author of You Were Born to. . . Write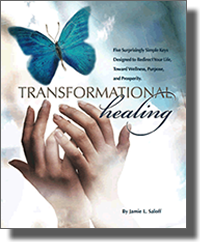 "Don't let the seemingly simple exercises and easy to implement programs fool you. This book is packed with power! Saloff's uncomplicated approach, backed by her own experience, shows you how self-healing can be mastered by anyone."
 --Dr. Nell M. Rodgers, DC MN, author of Puppet or Puppeteer
"A refreshing and unique way to look at illness and healing. I would recommend Transformational Healing to anyone, not just those who are sick."
 --Joseph Korn, author of Dowsing: A Path to Enlightenment
"Don Juan (Carlos Castaneda) teaches us that a new awareness can be as subtle as the wings of a moth. After reading her story and experiencing Jamie's material, I will never again ignore the wellspring symphony within my body (symptoms, synchronicities, perceptions, associations). For whether my body honors me with a comedic, tragic, or joyous expression, I now know it is a linchpin of wisdom and it is singing to me, for me." --Sunday Larson, "To Free Your Fearless Voice" workshops
Buy Transformational Healing for only $19.95 and receive free shipping. (US addresses only**.) Also Available on Amazon.com and from other fine retailers.


---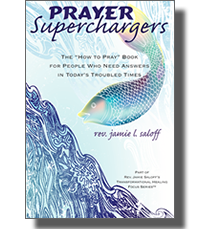 My first memory of prayer goes back as far as toddler-hood, where a small pottery plaque hung above my bed with the Golden Rule. I would often ask my mother what it said. Around that same time, a relative gave me two small prayer books from which I memorized a bedtime rhyme that I have said throughout my life.
Prayer has always been such an integral part of everything that I do, it is second nature to me. I had put the prayer keys that I used daily into a series of emails that were sent out mid-2006. An old friend of mine (Duane), heard me talk about them and wanted to read them. However, he didn't have email. So I printed a hard copy for him, and he loved them.
After Duane passed away, I wanted to honor his fond memory somehow and decided to create and dedicate this book to him.
About the Book:
Prayer Superchargers: The "How to Pray" Book for People Who Need Answers in Today's Troubled Times is a fast-read book with short stories about the key concepts I use to activate powerful prayers. Many of them will surprise you and make you rethink how you pray.
In this book I share how I found a favorite lost watch; how a car I wanted but couldn't afford, miraculously ended up in my possession. I explain how prayer can work in everyday situations, like waiting at a restaurant; and how prayer works whether or needs are great or small.
What Others Are Saying
"Just read the book! I Love it! So simple and well put. It definitely helps put things in perspective and helps the reader truly understand how prayer works!"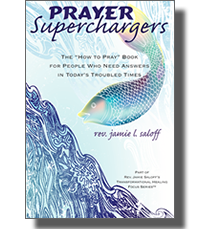 ~ Rev. Kris Seastedt

"Prayer Superchargers covers distinct issues that affect the power of prayer, allowing God to assist you in ways you've never even thought of." ~ Rev. Anita Pizycki

"Prayer Superchargers is thought provoking in a very simplistic but powerful way. A quick guide of hope and faith! Inspiring!" ~ Rev. Traci Bissonette
Buy Prayer Superchargers for only $9.95 and receive free shipping. (US addresses only**) Also Available on Amazon.com and from other fine retailers.

---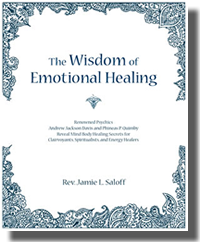 Having spent months reading and studying the indepth writings of Phineas Parkhurst Quimby, and the more than thirty volumes written by Andrew Jackson Davis for my extended education, I wanted a way to share some of the core Wisdom that I had learned. This book of profound quotes became that means.
Quimby and Davis both believed in a higher knowledge and power that allowed them to heal, even disolving cancerous tumors and helping those bedridden or on crutches to rise again. My goal had been to share the secret of this Wisdom and powerful healing in the book, which I have done to the extent that Davis and Quimby would allow.
Both men were speaking from the beginning of the Spiritualist and New Thought movements, a time before a base of understood language existed to explain this phenomena, therefore, often leaving it to the reader to discover the answer to the Wisdom riddle.
About the Book:
The Wisdom of Emotional Healing: Renowned Psychics Andrew Jackson Davis and Phineas P. Quimby Reveal Mind Body Healing Secrets for Clairvoyants, Spiritualists, and Energy Healers contains 108 pages of quotes from these wise healers and their biographers from the nineteenth century. Some of the quotes will surprise you, some will make you laugh, others will keep you guessing at their true meaning. It is a book to read and meditate upon for deeper insight.
"If medicine is adequate
to the curing of disease,
why are chronic diseases so prevalent?"
Andrew Jackson Davis
"I found that by the power of my own mind
I could change the mind of my patient
and produce a chemical change in the body,
like dissolving a tumor."
Phineas Parkhurst Quimby
A wonderful glimpse into the history, culture, and beliefs of these two men. If you are fans of either, this book will be a must-have as it's easy-to-read format allows the meanings of their writings to become clear. If this is the first you've heard of these reknown psychic healers, then this book is bound to be only the first of pleasurable exploration into healing and Wisdom with Davis and Quimby as your guide.
What Others Are Saying:
History seems to have all but forgotten Andrew Jackson Davis and Phineas Quimby, two giants of nineteenth-century spiritual philosophy and wholistic healing. Their work was foundational to late twentieth-century "New Age" teachings, and yet few have ever read or heard of them. In this beautiful volume Rev. Saloff has selected inspirational and thought-provoking treasures from their works and organized them in a way that both challenges and inspires the reader to personally examine what health and healing mean, physically and spiritually. I have studied Davis for over thirty years, and I find this book to be a wonderful source for some of his most seminal and inspirational thoughts.
~ Tom Cratsley, Associate Director, Fellowships of the Spirit
School of Spiritual Healing and Prophecy, Lily Dale, NY
"Rev. Saloff has created an inspiring compendium of wisdom by some of the nineteenth century's most profound spiritual thinkers and teachers. The thought-provoking guidance offered in this book is food for the soul and practical knowledge for our daily lives."
~ Rev. Elaine D. Thomas, Director, Fellowships of the Spirit
School of Spiritual Healing and Prophecy, Lily Dale, NY
Buy Wisdom of Emotional Healing,
only $9.95 and receive free shipping. (US addresses only**). Also Available on Amazon.com and from other fine retailers.

---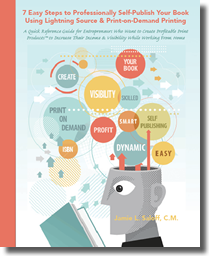 7 Easy Steps to Professionally Self-Publish Your Book Using Lightning Source or IngramSpark:
A Quick Reference Guide for Entrepreneurs Who Want to Create Profitable Print Products that Increase Their Income and Visibility
This quick-to-read guide offers an easy, seven-step overview on how you can become your own publisher and publish books using Lightning Source as your printer, the top print-on-demand company for traditional publishers, university presses, author services companies, and countless micro-publishers just like you.
Inside you will find:
• A 7-step guide to publishing your own book using print-on-demand printing via Lightning Source;
• Cost evaluation worksheets to monitor your profit,
• Frequently asked questions answer guide,
• Reference list, and marketing tips
Why allow a publisher to gobble 94% of your hard earned profits, when you could be pocketing 30%, 40%, 50%, or more? Why sit on your hands with lost sales while you wait for up to two years for your book to hit the shelves? Should you allow an online print provider to dictate your pricing and wholesale discounts when you can be in control of how much you earn? Shouldn't YOU be in charge of your book's design and destiny?
For nearly two decades, designer, consultant, and print-on-demand specialist, Jamie L. Saloff, has walked countless authors through each phase of the publishing process, guiding them every step of the way as they publish Profitable Print Products.™ Saloff has guided men, women, talented teens, gen-xers, baby boomers, golden agers, and even posthumously published authors — regardless of age or technical ability — through these 7 easy-to-do steps.
If you are tired of waiting for a traditional publisher to find you, have tried online publishing services and were dissatisfied, or are ready to go it alone but want to ensure your book will look professional and be available in a global market, the advice in this book will be of value to you.
What Others Are Saying:
"In her calm, caring, unhurried manner, Jamie will conscientiously lead you through self-publishing's rather arduous challenges with gentle, ingenuous expertness. She is perhaps the most capable person working in the self-publishing industry, and her gift is helping people." Perry Foster, author of "Hands Upon My Heart: My Journey Through Heart Disease and Into Life."
"My book sales are going up every day. I have sold almost 1000 copies… I can hardly keep up with it all, though it's very exciting." Patricia Kyritsi Howell, author of "Medicinal Plants of the Southern Appalachians"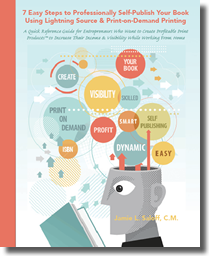 "Partially as a result of Jamie's efforts and sound advice, I save thousands of dollars a year and my corporation's income has nearly doubled. This wouldn't have happened without her." Tom Bird, author and "Write Your Book in a Weekend" retreat leader
Buy 7 Easy Steps to Professionally Self-Publish Your Book for only $9.87 and receive free shipping (US addresses only**).

---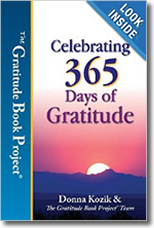 THE GRATITUDE BOOK PROJECT®: International Book Project Has More Than 300 People Sharing Their Stories of Gratitude, with National Book Sale Proceeds Benefitting Three Charitable Organizations
EDINBORO, PA – Rev. Jamie L. Saloff, "The Author's Prophet," is a co-author in The Gratitude Book Project: Celebrating 365 Days of Gratitude, a collaborative book featuring over 300 authors answering the question "What are you grateful for?" in 200 words or less.
The book shares compelling stories of appreciation and evidence that harnessing the power of gratitude can be a life-changing force. The difference between saying thank you (good manners) and living in gratitude (a great life skill), are illustrated in this inspiring, quick-to-read daily guide.
The Gratitude Book Project: Celebrating 365 Days of Gratitude is not only full of thanks but is also brimming over with testimonials to the people, things, events, and circumstances we so often take for granted.
Saloff's contribution compares the hardships of life's tragedies, loss, illness, abuse, and physical pain with the creation of beautiful gemstone jewelry. "We are all diamonds in the rough with the potential of becoming sparkling gems," she writes. "We can choose to see the abrasions of life as a means to expose our many shimmering facets."
A cancer survivor and no stranger to loss, illness, and pain, Saloff enjoys encouraging others through her writing and coaching practice to reach for loftier goals by pressing through difficult life situations. A six-time author, healer, and spiritual counselor, she guides authors, coaches, and other professionals desiring to calm the pain, grief, and conflict in their lives so they can "write more, sell more, and be more." Saloff's books, including Transformational Healing: Five Surprisingly Different Keys Designed to Redirect Your Life Toward Wellness, Purpose, and Prosperity, also carry forward this theme.
In keeping with the spirit of the project, net proceeds from national book sales will be split among three charitable organizations: Feeding America, Women for Women International and the American Society for the Prevention of Cruelty to Animals (ASPCA).
Click here to purchase the book via Amazon.com
**Effective January 1, 2015, we are unable to sell these products to the EU due to the changes in the VAT laws. Please check for these products on Amazon.com or ask for them at your local bookstore.