Stop Getting Sick – Start Living Well: Live Your Best Life by Listening to Your Body.

Now Available!
What if your body's annoying symptoms weren't intended to cause you distress but ached to guide you toward the life you longed to live?
The body provides unmistakable feedback about your life situations. Maybe it's those tell-tale migraines due to family stress, digestive upsets from working in an emotionally-toxic environment, or illness from burning the candle at both ends.
But what if these symptoms could provide solutions to your most difficult life challenges?
Afflicted with a host of random ailments—including cancer, premature childbirth, a coma, a car accident, and more—Jamie Saloff feared her life neared a painful end. Though she prevailed, the ensuing challenges left her feeling empty, alone, and unfulfilled. She sought help through all the avenues open to her but found no relief or solace. If she wanted to live well, she'd have to make her own way.
Stop Getting Sick — Start Living Well is a motivational, self-help book detailing the methods Jamie's shared for over twenty years in workshops and private sessions.
In this book, she teaches you how to:
• Translate your symptoms into individualized, deeply personalized messages that guide you through the bad stuff so you can get to the good stuff in life
• Remove undesirable beliefs so you can overcome fears, setbacks, heartaches, and pains blocking your way to living well
• Uncover your heart's deepest desires and create goals to release the "YOU" you came here to be
• Recognize the intuitive signs leading you to all the resources you need to move forward in life quickly and purposefully
• Peek into your ancestry to learn the value of looking back to leap forward
Stop Getting Sick — Start Living Well will lead you on a spiritually awakening journey of self-discovery and heightened intuitive intelligence, opening your eyes to new possibilities and illuminated pathways to solve your life challenges, answer the calling of your heart, and achieve your life's purpose.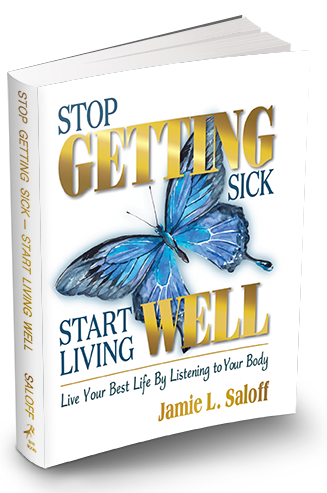 Start by taking the included self-assessment to see how many messages of hope and transformation await you.
"I have just finished your book, and I think it is one of the best books on healing and spirit I have read in years. I have a wide background in alternative healing techniques—hands-on healing, feng shui, nutrition, etc., etc. Your 'body messages' have given me a new outlook... Thank you." ~Janice Kyd
Now available (originally published as Transformational Healing),
this new edition has been totally revised, updated, and expanded.