[NOTE: This is the fully revised, Deluxe Edition with new information added! Now also available as an ebook!]

In this book, Jamie Saloff teaches how to move beyond the barrage of aches, pains, illnesses, and heartaches that have ravaged your life. You'll be shown how to utilize these experiences as stepping stones to access the marvelous YOU you came here to be. You'll learn how to interpret your aches and pains similarly to how some people interpret dreams, then use those interpretations to create the guidance you need to access greater happiness, wellness, and tremendous life fulfillment.
We are a people who have been broken. More often than not, we operate from a mode of survival hoping not to achieve great things but to simply get through the day. We've set aside our heart's longings—there just isn't time. Instead, we push through the daily grind, our backs against the wall. We've forgotten how to access the brilliance we once knew. We've left behind the pleasures we once dreamed. We've exhausted all our hopeful expectations for a better tomorrow.
"Rocked by chaos in my life, I desperately sought solutions. After nearly bleeding to death at twenty-four, being diagnosed with cancer at twenty-five, giving pre-mature birth at twenty-six, and a host of other miscellaneous ailments, injuries, and grievous happenings that just kept. on. coming, I prayed for guidance. My heart yearned for more from life. I could feel it 'out there' waiting for me. But how? My desires seemed so impossible—just a fantasy. After unsuccessfully seeking answers through so many other avenues, I eventually created my own path, the Body Messenger Method.™"
If you've just been diagnosed with a life-threatening disease or condition, DO NOT buy this book. You're about to be thrown into a chaotic whirlwind dictated by appointments, doctor visits, and much-needed self care. After the dust settles, and you're ready to get your life back, or before a serious condition strikes and you want to calm an array of annoying aches, pains, and illnesses, open the pages of Transformational Healing. Inside, you'll find a method designed to truly redirect your life back to its highest and best. You'll find your heart's fantasies often do come true.
What Others Are Saying:
"I have just finished your book and I think it is one of the best books on healing and spirit I have read in years. I have a wide background in alternative healing techniques / hands-on healing / feng shui / nutrition, etc., etc. Your 'body songs' have given me a new outlook... Thank you. " --Janice Kyd
"Beyond Carolyn Myss and Louise Hay, this work shares everything you need to know, from the deepest of all places, whether you believe your malady be of a physical, emotional, mental, or spiritual nature or all of the above." --Tom Bird, Call of the Writer's Craft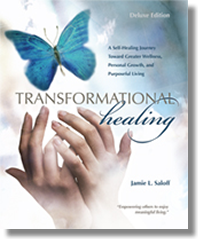 "Don't let the seemingly simple exercises and easy to implement programs fool you. This book is packed with power! Saloff's uncomplicated approach, backed by her own experience, shows you how self-healing can be mastered by anyone." --Dr. Nell M. Rodgers, DC MN, Puppet or Puppeteer
"A refreshing and unique way to look at illness and healing. I would recommend Transformational Healing to anyone, not just those who are sick." --Joseph Korn, Dowsing: A Path to Enlightenment
"Don Juan (Carlos Castaneda) teaches us that a new awareness can be as subtle as the wings of a moth. After reading her story and experiencing Jamie's material, I will never again ignore the wellspring symphony within my body (symptoms, synchronicities, perceptions, associations). For whether my body honors me with a comedic, tragic, or joyous expression, I now know it is a linchpin of wisdom and it is singing to me, for me." --Sunday Larson, "To Free Your Fearless Voice" workshops
Buy Your Autographed Copy Now: only $21.95* plus $5 shipping.
Also Available on Amazon.com and from other fine retailers.



Ebook for Kindle available here:




(*USA Addresses only.)