[NOTE: This is the fully revised, Deluxe Edition with new information added! Now also available as an ebook!]

Do you want the life your heart so deeply craves?
Are you ready to let go of all the aches, the pains, the heartaches, the let downs, the setbacks, and sadness that has held you back for so long? Author, speaker, intuitive, Jamie Saloff offers an inside look at how she amazingly transformed her life after facing tragedy, heartache, grief, depression, cancer, and two near-death experiences.
When you enter the pages of Transformational Healing, Jamie Saloff shows how to understand your body's voices to transform your life. She offers a down-to-earth toolkit of easy-to-understand strategies you can apply to your life immediately. This is not a woo-woo, wish-until-you-get-it process, but a purposeful, methodical system designed to teach you to recognize and interpret the guidance your body and soul are sending to you to enhance your life.
Expect the exercises to bring up emotional issues that are ready to be healed and transformed into something beautiful. Be prepared to commit to completing the exercises if you want to see real results. Be inspired by the many quotes from a wide variety of sources.


What Others Are Saying:
"I have just finished your book and I think it is one of the best books on healing and spirit I have read in years. I have a wide background in alternative healing techniques / hands-on healing / feng shui / nutrition, etc., etc. Your 'body songs' have given me a new outlook... Thank you. " --Janice Kyd
"Beyond Carolyn Myss and Louise Hay, this work shares everything you need to know, from the deepest of all places, whether you believe your malady be of a physical, emotional, mental, or spiritual nature or all of the above." --Tom Bird, Call of the Writer's Craft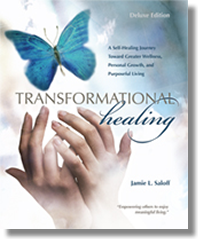 "Don't let the seemingly simple exercises and easy to implement programs fool you. This book is packed with power! Saloff's uncomplicated approach, backed by her own experience, shows you how self-healing can be mastered by anyone." --Dr. Nell M. Rodgers, DC MN, Puppet or Puppeteer
"A refreshing and unique way to look at illness and healing. I would recommend Transformational Healing to anyone, not just those who are sick." --Joseph Korn, Dowsing: A Path to Enlightenment
"Don Juan (Carlos Castaneda) teaches us that a new awareness can be as subtle as the wings of a moth. After reading her story and experiencing Jamie's material, I will never again ignore the wellspring symphony within my body (symptoms, synchronicities, perceptions, associations). For whether my body honors me with a comedic, tragic, or joyous expression, I now know it is a linchpin of wisdom and it is singing to me, for me." --Sunday Larson, "To Free Your Fearless Voice" workshops
Buy Your Autographed Copy Now: only $21.95* plus $5 shipping.
Also Available on Amazon.com and from other fine retailers.



Ebook for Kindle available here:




(*USA Addresses only.)