Marvelous Messages from Your Childhood
Thirteen Traits that Reveal Your Hidden Potential and
Empower You to Answer the Calling of Your Heart
Did you have a strange, unusual, or difficult childhood?
| | |
| --- | --- |
| •Abuse? | •Severe or life-threatening illness? |
| •Death of a family member? | •Separation from a parent? |
| •Trauma/fear /worry? | •Extreme poverty? |
| •Transient lifestyle? | •Unique lifestyles |
| •Exposed to domestic violence? | |
| •Subjected to the tragedies of war/crime? | |
| | |
Maybe your childhood wasn't all rainbows and unicorns. Maybe it wasn't picture perfect. Whatever happened, happened. You can't make it go away. It will always be a part of you. Childhood shapes you, good and bad. You can allow it to disable you or let it empower you.
Those of us who endured a difficult or unusual childhood were endowed with special gifts and traits. This book explains what those traits are, how they affect your life, and how they can assist you in achieving your highest and best.
Jamie Saloff calls upon a popular fairy tale to explain the thirteen traits most high achievers possess. Found amidst many leaders, celebrities, sports stars, musicians, artists, and other iconic luminaries, these traits are often formed early in life. Ironically, those who may have been hit the hardest in their youth are often the ones with the greatest tendency to carry all thirteen. Are you one of them?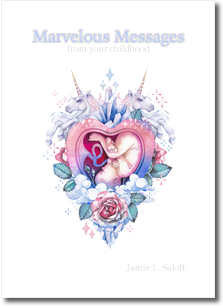 Buy Your Autographed Copy Now: only $10.95* plus $5 shipping.
Also Available on Amazon.com and from other fine retailers.

Ebook for Kindle available here:





(*USA Addresses only.)