Marvelous Messages from Your Body:
A Step-By-Step Guide for Interpreting Pain, Injury, and Afflictions into Spiritual Guidance for Resolving Life's Difficult Challenges
Migraines, sinus, chest congestion? Lower backache? Bad digestion? Female issues, tennis elbow, replaced knee, carpal tunnel? Ready to move beyond all this and more?
This little guidebook teaches you how to interpret your aches and pains similarly to how others interpret dreams. Delving into the underlying meanings of your ailments, you will receive transformative guidance designed to help you ease overwhelm, resolve difficult life situations, and stop the frustrations of a hectic, draining lifestyle. This is not a one-size-fits-all generic list. These are personalized messages uniquely tailored to you and your one-of-a-kind situations.
In my younger years I felt as a ship tossed in the waves. I would just get through one thing to be confronted by another. I was dismayed by all the sickness and loss I experienced in and around me. As some like to say, I got sick and tired of being sick and tired. I desperately needed a way to turn my life around. That's when Marvelous Messages began!
Coded with in all of my afflictions, I found amazing revelations hidden in my pain. I found the wisdom to overcome, the guidance to move forward, and surprising connections to my ancestral past. Following the guidance in this book, you can too.
What Others Are Saying:
"I always relied on Louise Hay's affirmation book for insight into my ailments, but it often left me wanting. Jamie's process offered so much more as to how what was showing up in my body was happening in my life. After using her method, I could move forward, make decisions, and take needed actions to heal my health, my relationships, and my finances." ~Anita Pizycki, CPA, CA
"My session with Jamie felt like a FASCINATING journey through my body and my issues with chronic pain. She provided me with great insight as to how to move forward in the healing process, and how to "lighten my load." I seriously had one "Ah-ha" moment after another! After our session ended, I sat quietly contemplating what had been revealed to me through Jamie, and I felt totally empowered to take action in finding the balance needed to heal certain areas of my life. I highly recommend working with Jamie!" ~ Joy Phillips, OnceUponAnArchetype.com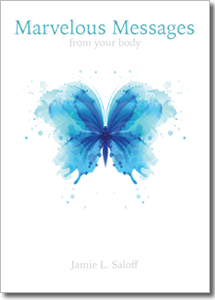 Buy Your Autographed Copy Now: only $9.95* plus $5 shipping.
Also Available on Amazon.com and from other fine retailers.

Ebook for Kindle available here:




(*USA Addresses only.)