Marvelous Messages from Your Body:
A Step-By-Step Guide for Interpreting Pain, Injury, and Illness into Intuitive Guidance to Resolve Life's Difficult Challenges
Pain often signals suppressed misery.
Like the rushing waters pressing on the walls of a crumbling dam, the body finally cries out for change.
The job you hate.
A troubled relationship.
Educational stress.
A family disagreement.
Even if life appears happy on the outside. . .
The body can hold back the heart's dissatisfaction for only so long before it breaks the silence, revealing the truth.
Migraines, sinuses, chest congestion? Lower backache? Bad digestion? Female issues, tennis elbow, cranky knee, carpal tunnel? All these and more can be used as a window into the soul revealing what the heart longs for most and offering the necessary guidance to achieve it.
Jamie Saloff rode the ups and downs of a death-defying roller coaster most of her early life. Stitches, surgeries, female issues, premature childbirth, shingles, cancer, and more. Why, she wondered, would she just get through one harrowing ride only to find herself on another? What would it take to make the misery stop? What must she do to find the health and happiness she so desperately desired?
This small 50-page guidebook teaches how to interpret aches, pains, injuries, and ailments into a personalized, Marvelous Message offering guidance and insight. The easy-to-follow method in this quick-to-read book will provide:
• revitalized hope
• release from dissatisfaction
• guidance for creating positive change
• a stronger connection to the Divine
• and direction for locating that "happy place" the heart so desires
Are you ready to begin your Marvelous Messages journey?
What Others Are Saying:
"I always relied on Louise Hay's affirmation book for insight into my ailments, but it often left me wanting. Jamie's process offered so much more as to how what was showing up in my body was happening in my life. After using her method, I could move forward, make decisions, and take needed actions to heal my health, my relationships, and my finances." ~Anita Pizycki, CPA, CA
"My session with Jamie felt like a FASCINATING journey through my body and my issues with chronic pain. She provided me with great insight as to how to move forward in the healing process, and how to "lighten my load." I seriously had one "Ah-ha" moment after another! After our session ended, I sat quietly contemplating what had been revealed to me through Jamie, and I felt totally empowered to take action in finding the balance needed to heal certain areas of my life. I highly recommend working with Jamie!" ~ Joy Phillips, OnceUponAnArchetype.com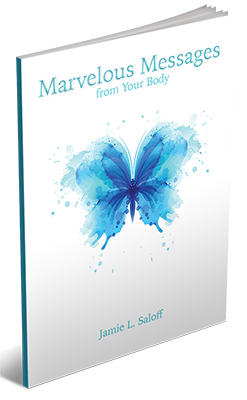 Available on Amazon.com and from other fine retailers.